Though Teamfight Tactics has just been updated (Patch 13.3 was released to the game on February 9th), the game still seems to be dominated by bugs. Despite all bug fixes and major balance changes, players still report game impacting bugs that range from slightly inconvenient to completely unplayable, and the competitive aspect of matches has been severely compromised.
Just before the update, on the evening of February 6th, Riot Games experienced a complete client bug in which the previous patch was rolled back not only for Teamfight Tactics, but League of Legends as well, effectively turning back the clock by at least a month for the few hours it took the company to find the problem and correct it. Many game modes were disabled to get everything back to running the way it was:

This event caused the before mentioned Patch 13.3 to be released a day late — which greatly inconvenienced players and content creators alike.
Even before this patch hit the client, players were already complaining on community forums about the number of bugs in the game, and a thread on Reddit drew in even more players reporting their own bugs:

Now, it is a week later and players continue to report bugs of various types on forums. There are new bugs and old bugs, all working together to compose a general feeling of frustration and anger across the community.
A few of the old bugs include Leblanc's troubles with attacking properly:

Samira is also a known target for the complaints regarding bugs:

This unit was hit with a bug fix in Patch 13.3, but it didn't seem to be enough:
"(...)fixed a bug where Samira's spell would sometimes choose illegal targets or not switch targets correctly"
- Direct quote from Patch 13.3's notes.
Perhaps the worst bug of all, however, is a bug that causes the player's match end screen to completely bug and prevent them from hitting the "play again" button: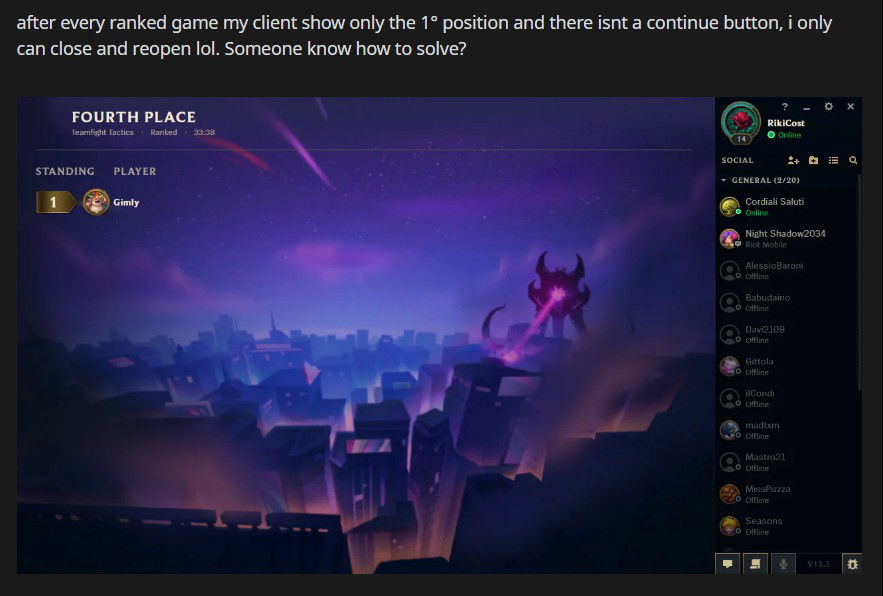 This bug has been causing players to have to close and reopen their game clients after each match, which is a great source of inconvenience.
The greatest suspicion is that the biggest client bugs are happening due to the earlier hack attack the company suffered earlier in January. Riot Games stated that nothing was compromised and that the whole issue was resolved in less than 72 hours, and yet there are reports that the Game's source code is being sold in the black market. It seems the company's security issues are far from being over.